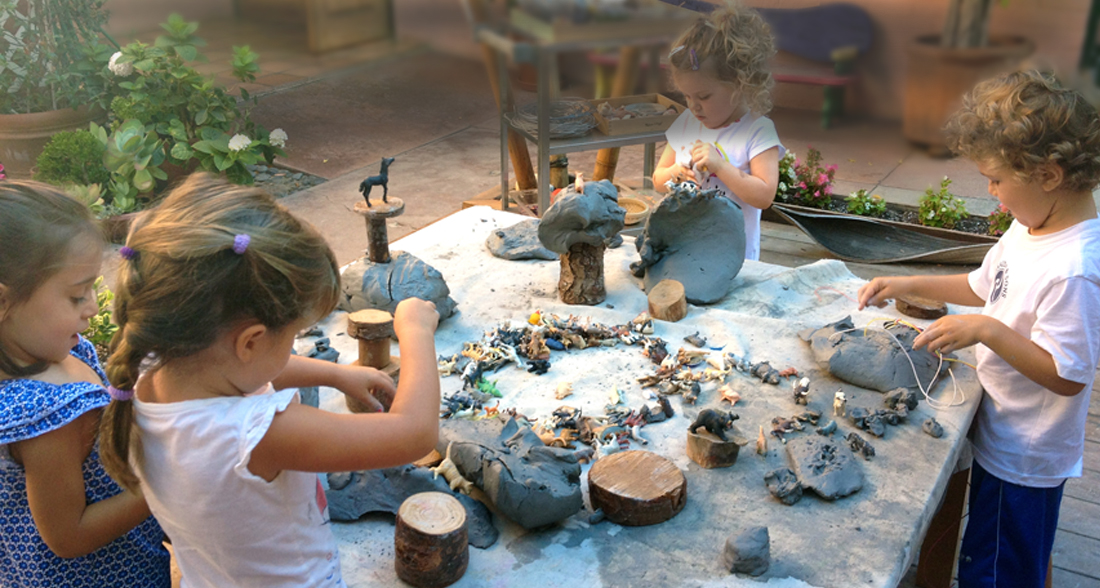 The Reggio Emilia Approach is an educational philosophy concentrated on preschool and primary education.
It was started by Loris Malaguzzi and the parents of the villages around Reggio Emilia in Italy after World War II. The destruction from the war, parents believed, necessitated a new, quick strategy to teaching their children. They felt that it is in the early years of development that children form who they are as individuals. This led to creation of a program based on the principles of respect, responsibility, and community through exploration and discovery in a supportive and enriching environment based on the interests of the children through a self-guided curriculum.
Community Support and Parental Involvement
Reggio Emilia's tradition of community support for families with young children expands on a view, more strongly held in Emilia Romagna and Tuscany, of children as the collective responsibility of the local community.
In Reggio Emilia, the infant/toddler and pre-primary program is a vital part of the community, as reflected in the high level of financial support. Community involvement is also apparent in citizen membership in La Consulta, a school committee that exerts significant influence over local government policy.
The parents' role mirrors the community's, at both the school wide and the classroom level. Parents are expected to take part in discussions about school policy, child development concerns, and curriculum planning and evaluation. Because a majority of parents—including mothers—are working, meetings are held in the evenings so that all who wish to join can do so. Parents have to support their children in whatever choice they like.
Conclusion
Reggio Emilia's approach to early education reflects a theoretical kinship with John Dewey, Jean Piaget, Vygotsky and Jerome Bruner, among others. Much of what occurs in the class reflects a constructivist approach to early education. Reggio Emilia's approach does contest some conceptions of teacher competence and developmentally appropriate practice. For example, teachers in Reggio Emilia assert the importance of being confused as a contributor to learning; thus a major teaching strategy is purposely to permit mistakes to happen, or to begin a project with no clear sense of where it might end. Another characteristic that is in contrast to the beliefs of many Western educators is the importance of the child's ability to negotiate in the peer group.
One of the most challenging aspects of the Reggio Emilia approach is the solicitation of multiple points of view regarding children's needs, interests, and abilities, and the concurrent faith in parents, teachers, and children to contribute in meaningful ways to the determination of school experiences. Teachers trust themselves to respond appropriately to children's ideas and interests, they trust children to be interested in things worth knowing about, and they trust parents to be informed and productive members of a cooperative educational team. The result is an atmosphere of community and collaboration that is developmentally appropriate for adults and children alike.
Philosophy
Principles:
Children must have some control over the direction of their learning;
Children must be able to learn through experiences of touching, moving, listening, seeing, and hearing;
Children have a relationship with other children and with material items in the world that children must be allowed to explore and
Children must have endless ways and opportunities to express themselves.
The Reggio Emilia method to teaching young children puts the natural development of children as well as the close relationships that they share with their environment at the center of its philosophy. Early childhood programs that have successfully adapted to this educational philosophy share that they are attracted to Reggio because of the way it views and respects the child.
Parents are important component to the Reggio Emilia philosophy. Parents are viewed as partners, collaborators and advocates for their children. Teachers respect parents as each child's first teacher and involve parents in every aspect of the curriculum. It is not uncommon to see parents volunteering within Reggio Emilia classrooms throughout the school. This philosophy does not end when the child leaves the classroom. Most parents who opt to send their children to a Reggio Emilia program integrate many of the principles within their parenting and home life. Even with this bridge between school and home, many people wonder what happens to Reggio children when they make the transition from this style of education to a non Reggio Emilia school. The answer is that there is some adjustment that must take place. In most school environments, intellectual curiosity is compensated, so students continue to reap the benefits of Reggio after they've left the program.